The Metadata Content Report is intended to assist users in creating rich metadata records that align with guidance around best practice and " metadata for impact ". The report is generated for every record that is ingested (harvest or manual entry) into the RDA Registry and is based on a set of automated tests that check if recommended RIF-CS elements are populated. Each record's metadata report information is then made available via a report icon

on the Manage Records page.
To quickly assess a record's Metadata Content Report without viewing the complete record:
Hover your mouse over the report icon

for the record you're interested in.
A popup box will be displayed. Metadata recommendations which have been met will be shaded green.
To close the popup box, click the close button shown in the top right-hand corner, or move your mouse pointer until it is outside the bounds of the concertina box. The box will disappear after a short delay.
Metadata Content Report for a Collection on the Manage My Records page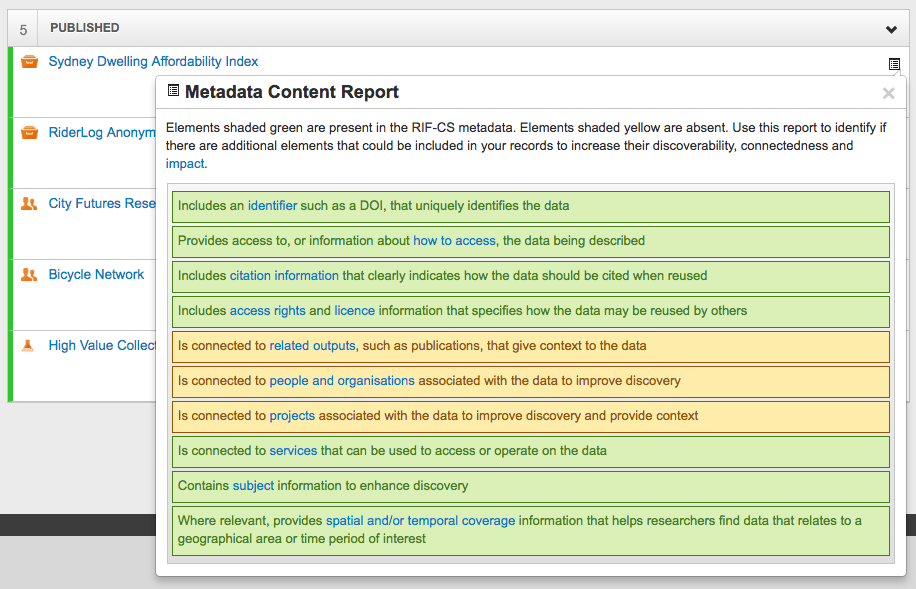 All records being harvested or manually added to the registry require a title and a type (e.g. Collection of type dataset). Collections will also be required to have a description. This means that records without a name/title or (for collections) a description, will no longer be automatically published in Research Data Australia (as stated in our Research Data Australia Collection Description Quality Policy).
More Information: