Account Administration Information
These settings contain basic information about your account. It is important to keep this information up to date so that ARDC can easily get in contact with you in the event of system changes/planned outages.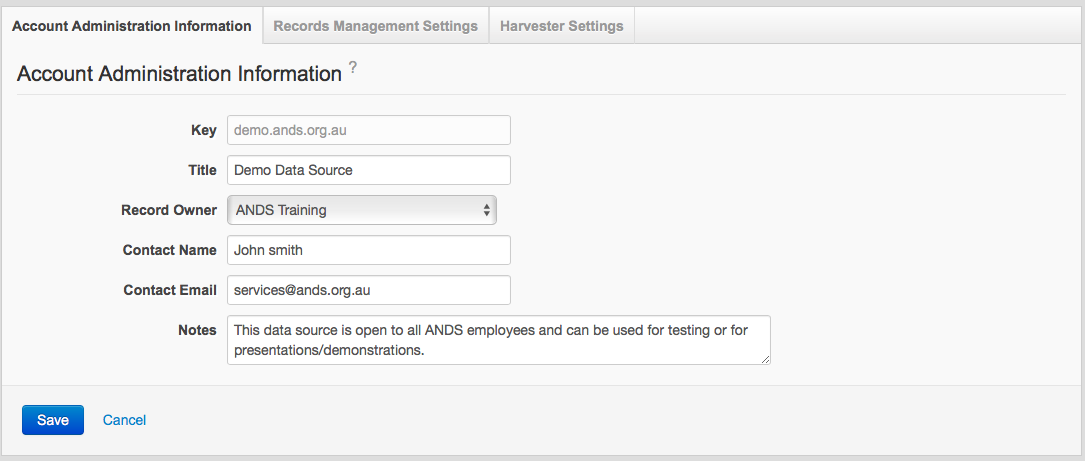 Field Name
Description
Example
Key

A unique ID identifying your Data Source within the ARDC systems.
This key is allocated by ARDC and cannot be changed once the account has been created.
The key is for your Data Source, and is not the same as the key each individual metadata record will have.

aims.gov.au
Title

The name of your Data Source.
This may be an organisation name or a repository name.
The title will be used to identify your data source account throughout the registry pages.

Australian Institute of Marine Science Metadata Catalogue
Owner

The name of the owner of this Data Source administrative record, usually an organisation name that is not ambiguous, i.e. the full organisation name.
Acronyms, contractions or nicknames are not permitted.

Australian Institute of Marine Science
Contact Name

Personal name of the Data Source Administrator that can be disambiguated.



Contact Email

Organisational email address of the Data Source Administrator.
A generic or group email is also accepted provided the listed data source administrator has access to this email account.

name@uni.edu.au
Notes

Any information useful to record about the Data Source or its activities.



More information: