How do I register to use HDA Data Request?
If you are new to HDA Data Request and would like to register to use the platform please contact hesanda@ardc.edu.au
How do I make changes to my account?
If you are an existing user (e.g. part of a HeSANDA node) and would like to make changes to your existing account, please contact hesanda@ardc.edu.au
How to login to your HDA Data Request account
Once an HDA Data Request account has been created for you, you should receive an email notification from one of the NII Services administrators inviting you to join the team.
By default, you will be given access to Jira Service Management. Verify that you have received the email then lick 'Join the team.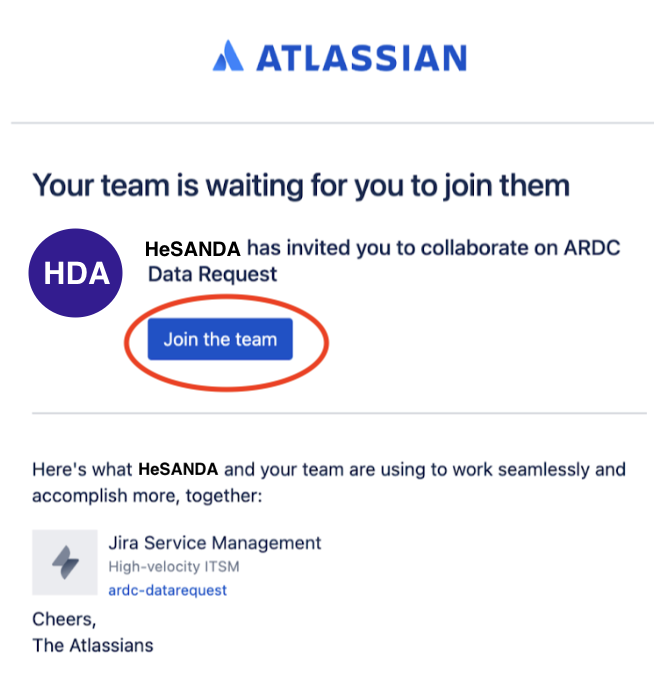 The next screen will ask you to complete your login registration for the POC email address specified in the HDA Data Request account creation request (see 'your HDA Data Request account'). Enter your Full Name and password then click ' Sign up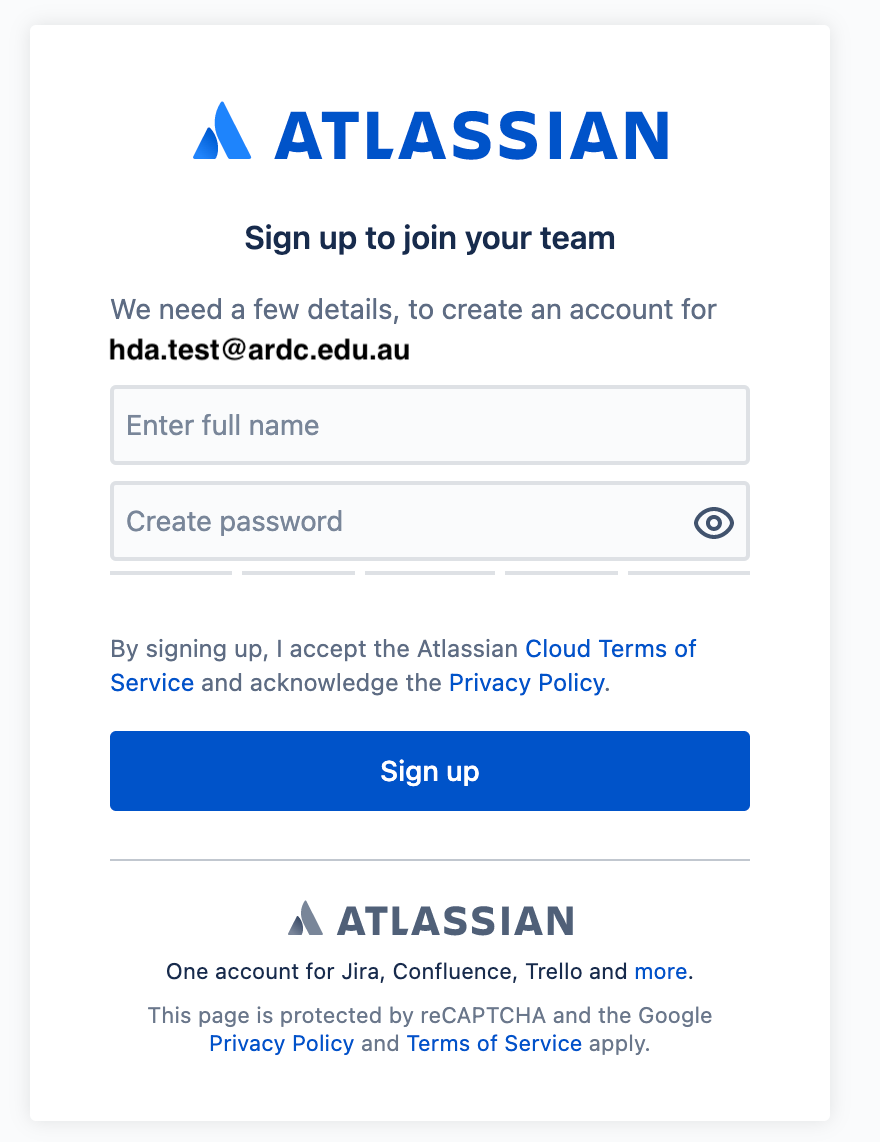 If you belong to an organisation that enforces the organisation's Identity Provider (IdP) for authentication, login to HDA Data Request as you would normally do in your local systems using the enrolled email address.
When sign up is completed, you will be redirected to the HDA DARMS login page
In the future, you can login to HDA Data Request by navigating to https://ardc-datarequest.atlassian.net
Click ' Login ' and then enter your email and the password you just created. You should then see a screen such as the following when logged in.:
Notes:
'Your work' (figure above) is the default screen/homepage when you log in to the HDA Data Request platform.
To change your default homepage to the HDA POC Dashboard, follow the instructions on 'How to change your data request homepage' below.
How to change your default data request homepage
Navigate to your user account profile icon on the top right corner of the screen.

Select 'Personal Settings' as per screenshot below.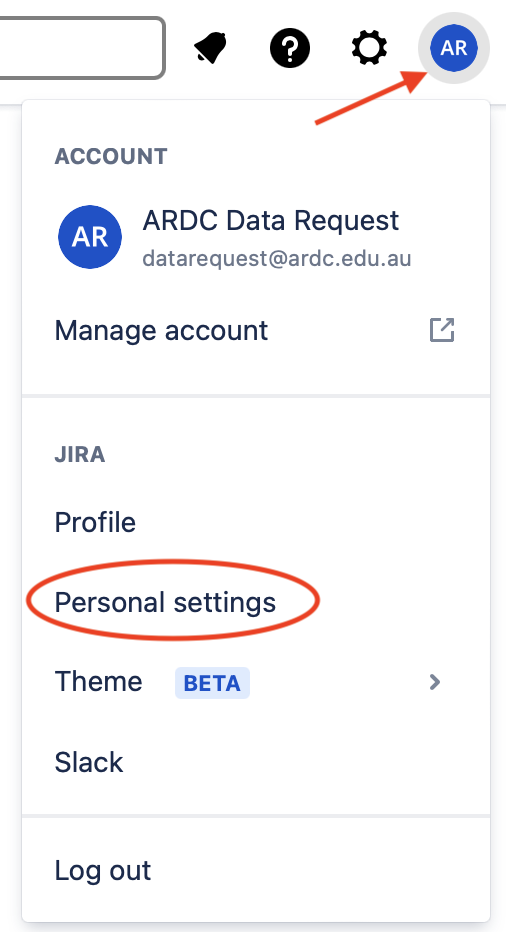 On 'Your Jira homepage section, select 'Dashboards from the drop-down list

Navigate to the end of the screen and click 'Save changes' to save your settings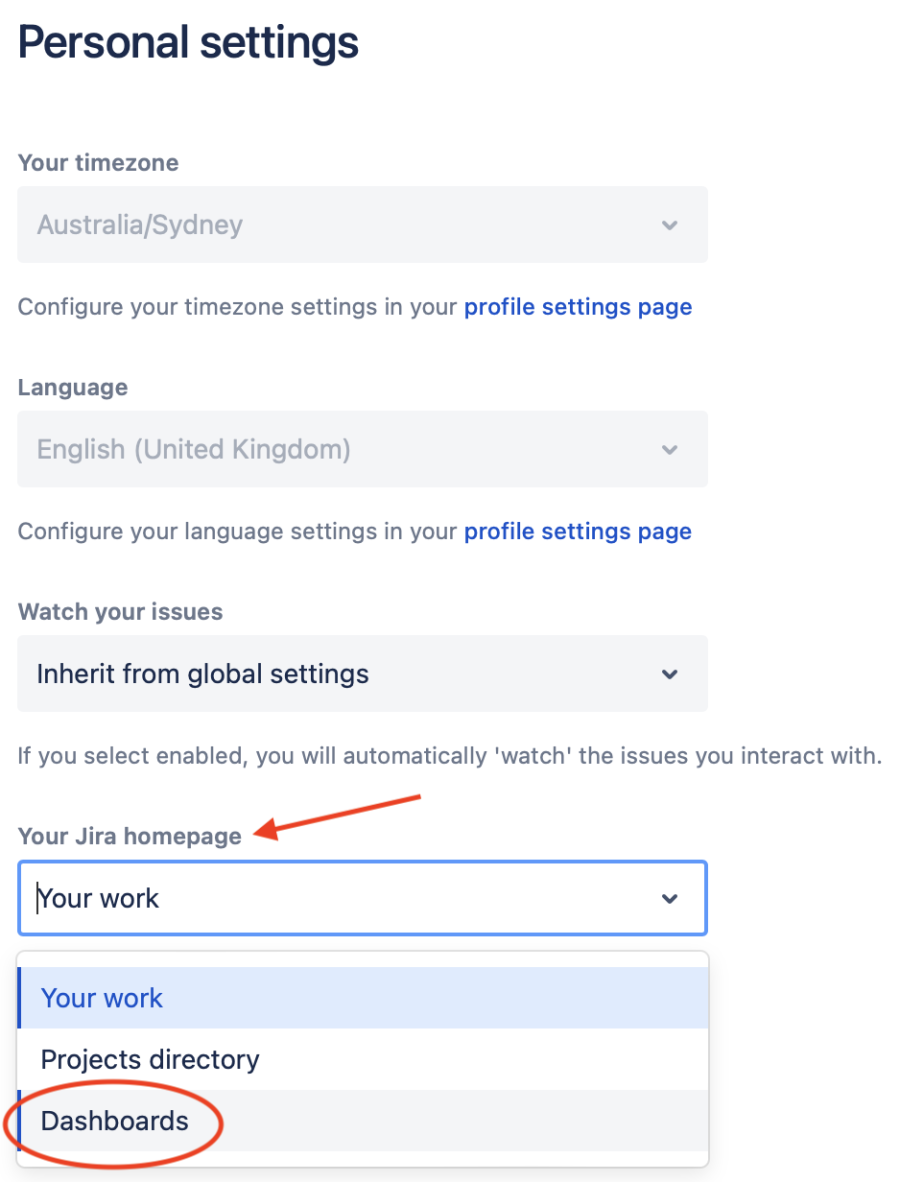 Setting your dashboard as the homepage also sets it as the default page when you click the ARDC logo on the upper left-hand corner of the screen.